Many have been put off by their experience of organized religion. They question themselves and their faith, seeking an authentic way to follow God without becoming part of the approach to religion that has negatively impacted them.
We're building a new of spiritual community, interested in learning from the great teachers such as not only Jesus and Judeo-Christian teachings, but also eastern, humanist, and so many other teachings from saints and sages with wisdom for the spiritual journey.  We join form friendships in a spiritual community, but recognize we may still stay a part of our respective religious communities — no conversion or exclusivity is required.
Over time, this simpler spiritual way is breeding life and peace in our souls. We recognizing that many of our friends had been so put off by church they'd never participate, so we seek to create a way of sharing the spiritual journeys with folks who would never "go to church."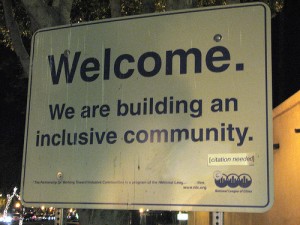 That's who we are…
– a non-sectarian group of spiritual people
– gathering together to become friends
– gathering together to awaken our souls and to be strengthened on our spiritual journeys
Check us out.